2021 Alki Art Fair / July 24-25
To all New and Returning Artists and Vendors!
What a crazy year this has been.
In light of the fact that there is finally some good news re the Covid Pandemic in the form of planned vaccinations, the Board of Directors of the Alki Art Fair feels confident in opening the 2021 Artist Applications as scheduled.
The Fair will be somewhat different than in the past, both in size and layout, but with careful planning and the cooperation of the wonderful artist community, we intend to have a fair and invite the neighbors. There will be new protocols in place to make the event as safe for everyone as possible.
For the 2021 Art Fair, all booths will be separated, eliminating any 'corner booths'. This will also mean there may be a fewer number of artists invited to participate in the event.
Priority will be given to self contained food trucks to reduce the lines that form near the traditional food booths. Traditional food booths may be invited on a very limited scale if placement can be done safely for everyone.
Finally, and very important for all artists and vendors - to both comply with Seattle Park regulations and to afford a more enjoyable and safer environment for everyone, vehicles will not be permitted on the site for load in or load out.
Short term street parking will be made available and a system to assist artists with transporting their booths and wares is being established.
Details will be sent to all artists invited to participate.
Even as we plan for a 2021 Fair, we recognize that in the event  the pandemic has not been brought under control and bringing together large numbers of people would be both foolish and dangerous, we will suspend all planning as we did for 2020), refund fees and pick up again in 2022.
We will follow the guidance of the State and local health departments and with that guidance, determine the best route forward.
You will notice the Fair has reduced the booth fees by 15% from the 2020 fee, as we know how very difficult this year has been for everyone.
Applications for Artists and Emerging Artists and Food Vendors are now open.
https://alkiartfair.org/participant-info/
Applications for Performers are being handled separately.
On another subject, the Alki Art Fair is actively seeking a new member for the Board of Directors – ideally a working artist who can bring that perspective to the Board, as well as assume on the role of Treasurer.
The Board is all volunteer.
The time commitment will vary throughout the year but will include monthly meetings held in West Seattle, though currently held virtually on Zoom.
The Board member representing the artist community has zero obligations before, during, or immediately after the event, as that person is generally in their booth.
If you are interested in working with a great group of people, please contact me directly or send an email to info@alkiartfair.org to be introduced to the current Board, discuss everything in more detail and initiate the process.
Thank you - and remember – 2021 Alki Art Fair – July 24-25, 2021.
Jim Goettler, Director
Alki Art Fair
Check out the amazing line-up of talent we were planning to showcase in 2020. We have wide range of painters, illustrators, ceramicist, sewers and more for you to peruse in your pjs. 
Explore the strumming, singing, dancing performers who were part of our 2020 lineup. Tune in for home recordings, live perormances and more on Facebook and Instagram.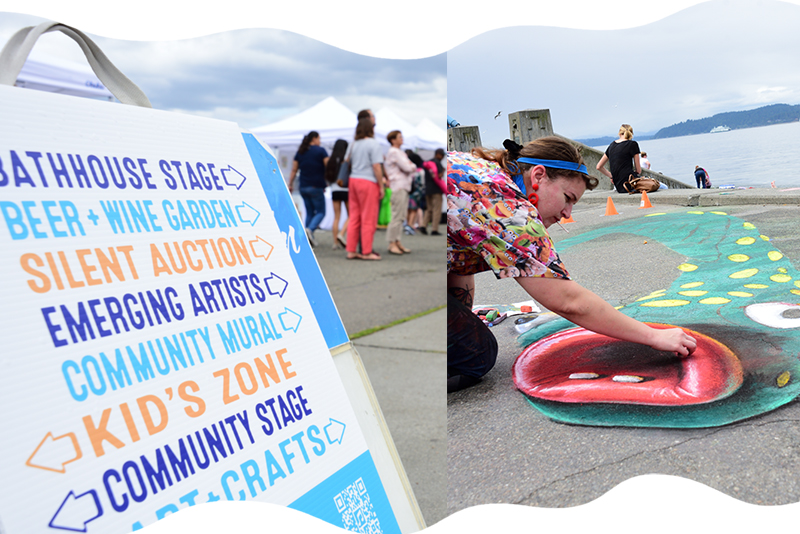 We're a fun and scrappy group of locals seeking to grow our tribe. If you're looking for a way to get involved and flex your creative chops while lending your ideas and talents to the organization and the West Seattle community—give us a shout. We'll help you find or craft a role that is perfect for you.
Local artists, performers and businesses can participate by posting on Facebook and Instagram using the hashtag #AlkiArtFairAtHome and tagging @alkiartfair. The best submissions will be posted daily.
Have an idea on how to improve the virtual art fair or questions about how to contribute? Drop us a line at virtual@alkiartfair.org