2022 Alki Art Fair / July 23-24, 2022
Director's Update - October, 2021
Musings and Ramblings from the Alki Art Fair
Hello Everyone!
First of all, a huge thank you to all of the artists from throughout the region who contribute so much every year to the Alki Art Fair, making it a 'must attend' event for those seeking high quality artwork and an opportunity to meet the artists whose work is being presented.
As our community slowly eases back to some semblance or normalcy, the Alki Art Fair is delighted to welcome you to a Holiday Art Fair, scheduled to coincide with the Argosy Christmas Ships visit to Alki Beach Park on Saturday, November 27, from 4-8pm at the Alki Beach Bathhouse on Alki Avenue.
Completely free to the public, the Fair will present high quality artists representing many of the art mediums to be found at the summer Art Fair - offering items for every taste, style and budget.
In the interest of everyone's safety and to follow both the King County and City of Seattle health advisories, proof of Covid vaccinations and masking while indoors will be required. Vaccination proof can be verified with your vaccination card, a photo of the card, a printed certificate from <MyIrMobile.com> or by uploading your card to the Clear platform <https://www.clearme.com/vaccine-validation>
Come on down to visit with your neighbors, do some early holiday shopping, watch the Christmas Ships and grab a cup of hot chocolate.
SAVE THE DATE!!
The 2022 Alki Art Fair is scheduled for July 23-24, possibly opening with festivities and music on the evening of Friday, July 22.
For Artists interested in participating in the Alki Art Fair, applications for the 2022 Fair, tentatively scheduled for July 23-24, will open in early December.
Please everyone, stay safe and stay healthy.
***************************************************************************
If you are interested in working with a great group of people to help make the Alki Art Fair happen each summer as well as to support working artists throughout the year, please contact me directly or send an email to info@alkiartfair.org
Thank you
Jim Goettler, Director
Alki Art Fair
Check out the amazing line-up of talent we were planning to showcase in 2020. We have wide range of painters, illustrators, ceramicist, sewers and more for you to peruse in your pjs. 
Explore the strumming, singing, dancing performers who were part of our 2020 lineup. Tune in for home recordings, live perormances and more on Facebook and Instagram.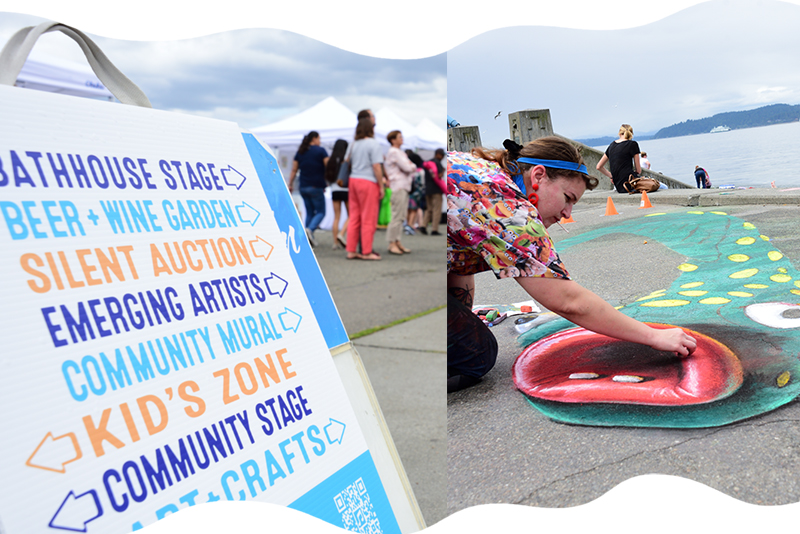 We're a fun and scrappy group of locals seeking to grow our tribe. If you're looking for a way to get involved and flex your creative chops while lending your ideas and talents to the organization and the West Seattle community—give us a shout. We'll help you find or craft a role that is perfect for you.
Local artists, performers and businesses can participate by posting on Facebook and Instagram using the hashtag #AlkiArtFairAtHome and tagging @alkiartfair. The best submissions will be posted daily.
Have an idea on how to improve the virtual art fair or questions about how to contribute? Drop us a line at virtual@alkiartfair.org