2021 Alki Art Fair / July 24-25
Important Update - May 13, 2021
The 2021 Alki Art Fair is Cancelled
Hello Alki Art Fair Applicants,
First of all, thank you for taking the time to apply to the 2021 Alki Art Fair, and my apologies for the delay getting back to you. We have been diligently working to get the proper permitting for the fair but unfortunately COVID regulations have led us to make the difficult decision to cancel the 2021 Alki Art Fair.
Throughout the year, there have been numerous ongoing meetings with multiple City departments to figure out how to make the Art Fair happen. While the Fair might have been permitted as a much smaller event (there was still no guarantee as of this week), the health/safety protocols required by the City far exceed the financial and physical capacity of our volunteer board and staff, leaving us no choice but to cancel the 2021 event.
Your application fee will be returned to the account you paid it from and should appear in that account in a matter of days.
Moving Forward
We've been exploring a number of smaller programs throughout the summer and fall.
We will be reaching out soon with an easy online survey to gauge your interest and opinions of these options.
We will provide updates at alkiartfair.org and by email to keep you up to date as these options progress.
Applications for the 2022 Fair, tentatively scheduled for July 23-24, will open in December.
The board and I  wish we had good news for everyone, but this pandemic is taking a huge toll on everyone, with non profits and the arts community being hit especially hard.
Stay safe and stay healthy,
Jim
***************************************************************************
On another subject, the Alki Art Fair continues to actively seek a new member for the Board of Directors – ideally a working artist who can bring that perspective to the Board.
The Board is all volunteer.
The time commitment will vary throughout the year but will include monthly meetings held in West Seattle, though currently held virtually on Zoom.
The Board member representing the artist community has zero obligations before, during, or immediately after the event, as that person is generally in their booth.
If you are interested in working with a great group of people, please contact me directly or send an email to info@alkiartfair.org to be introduced to the current Board, discuss everything in more detail and initiate the process.
Thank you
Jim Goettler, Director
Alki Art Fair
Check out the amazing line-up of talent we were planning to showcase in 2020. We have wide range of painters, illustrators, ceramicist, sewers and more for you to peruse in your pjs. 
Explore the strumming, singing, dancing performers who were part of our 2020 lineup. Tune in for home recordings, live perormances and more on Facebook and Instagram.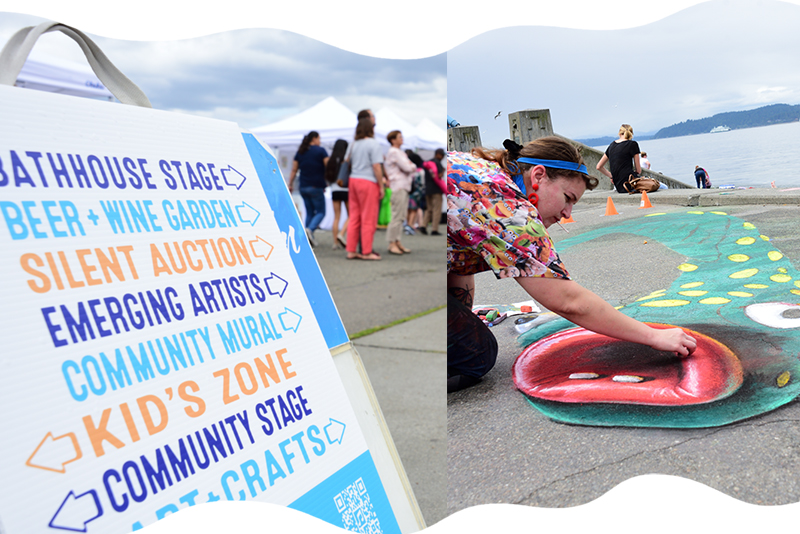 We're a fun and scrappy group of locals seeking to grow our tribe. If you're looking for a way to get involved and flex your creative chops while lending your ideas and talents to the organization and the West Seattle community—give us a shout. We'll help you find or craft a role that is perfect for you.
Local artists, performers and businesses can participate by posting on Facebook and Instagram using the hashtag #AlkiArtFairAtHome and tagging @alkiartfair. The best submissions will be posted daily.
Have an idea on how to improve the virtual art fair or questions about how to contribute? Drop us a line at virtual@alkiartfair.org